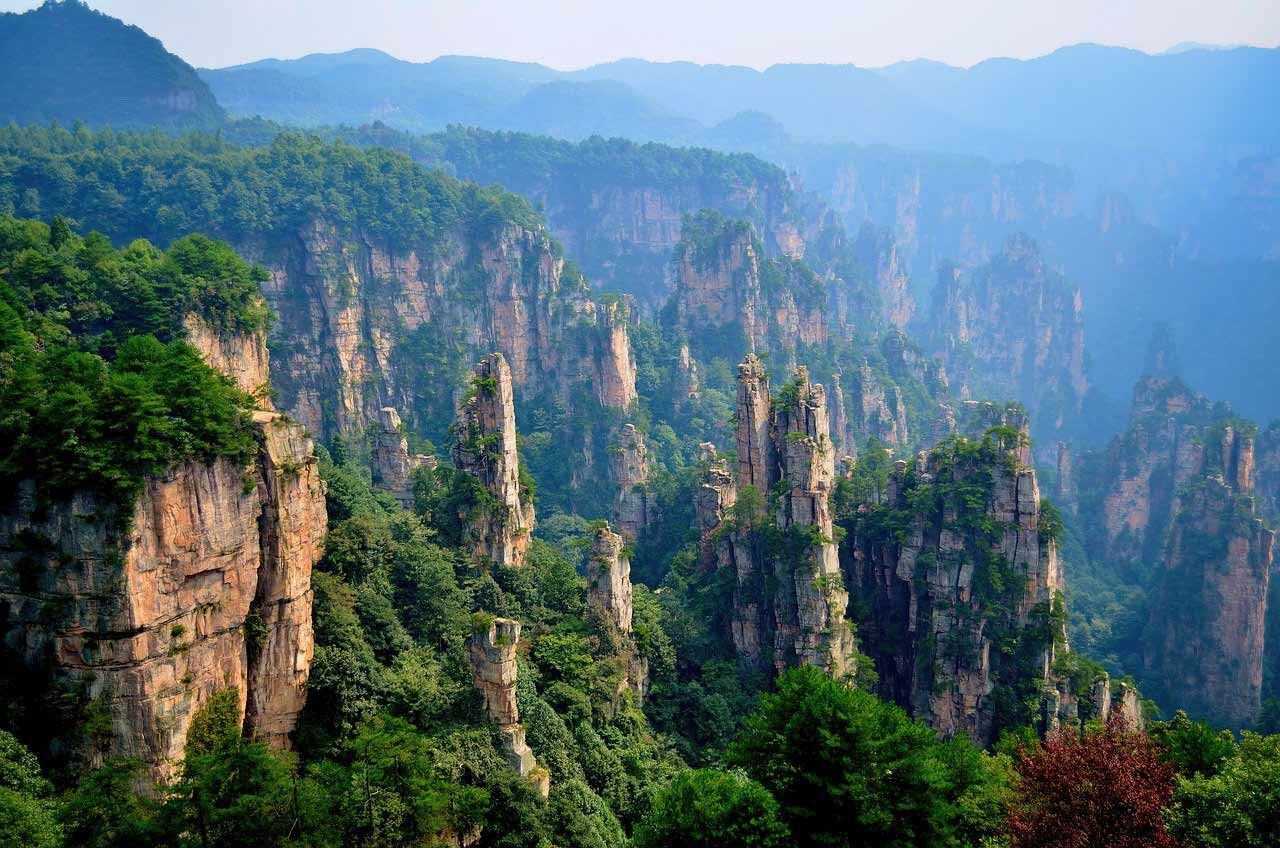 As nature enthusiasts, we understand the importance of preserving and protecting our planet's natural wonders, which is why we're excited to share our top picks for the 8 best national parks in China. This vast country is home to some of the most diverse landscapes in the world, from towering mountains and deep gorges to turquoise lakes and lush forests. Each national park offers a unique experience and an opportunity to connect with nature in a meaningful way.
Jiuzhaigou National Park
Jiuzhaigou National Park is located in the northern part of Sichuan Province and is regarded as one of China's most exquisite and beautiful national parks. This long valley stretches from north to south and has earned recognition for itself as a UNESCO World Heritage Site in 1992 and a World Biosphere Reserve in 1997.
Renowned for its breathtaking features, Jiuzhaigou captivates visitors with its glimmering turquoise lakes, rugged mountains, and lush forests. With over 100 lakes, many featuring a beautiful shade of turquoise, the park offers a unique natural spectacle that is difficult to find anywhere else. Moreover, the park is adorned with magnificent waterfalls, including the awe-inspiring Nuorilang Falls, which plunges from a height of over 20 meters (65 feet) and spans 320 meters (1050 feet) in width.
Although unfortunately, the park suffered damage from an earthquake in 2017, it reopened in 2019 with newly established hiking trails that provide access to the park's stunning views.
As Jiuzhaigou is one of the most popular national parks in China, we advise that you visit during the off-peak season to avoid large crowds. The optimal time to experience the park's full splendour is from September to November when the autumn foliage is at its peak. However, visitors should be mindful of the unpredictable weather and pack accordingly. It is also recommended to bring comfortable hiking shoes and a camera to capture the remarkable scenery.
If you would like to access their official website you can do so by clicking here.
Zhangjiajie National Forest Park
Zhangjiajie National Forest Park stands as one of China's most iconic national parks, captivating visitors with its awe-inspiring beauty. Zhangjiajie National Forest Park is located in the northeast part of the Wulingyuan Scenic and Historic Interest Area of Zhangjiajie. A fun fact about this incredible place is that this park was China's first national forest park and was founded in 1982.
The park's claim to fame lies in its pillar-like sandstone peaks, which served as inspiration for the magical floating mountains depicted in James Cameron's 2009 film "Avatar". With a staggering 243 peaks and over 3 000 pinnacles and spires, the national park boasts a landscape of otherworldly beauty.
A highly recommended way to explore the park is by going on the world's longest cable car ride. The cable car runs for an incredible distance of 7 455 meters (24 458 feet) and lets you experience the majestic peaks up close.
We can also recommend checking out the Zhangjiajie Glass Bridge. The Zhangjiajie forest park is also home to this impressive structure that like the cable car it also holds a world record. This time for being the highest glass bridge in the world at a staggering 430 meters (1 410 feet) long and 300 meters (984 feet) high. It also features the world's highest bungee jump at 260 meters (853 feet) high!
Hiking is also a beloved activity within the park, offering a range of trails catering to different levels of difficulty. Among the park's trails, the Golden Whip Stream trail stands out as the most popular choice. Spanning 7.5 kilometers (4.6 miles), this picturesque trail follows alongside a crystal-clear stream. With its relatively easy terrain, it provides an accessible and rewarding experience for most visitors.
Huangshan National Park
When discussing the best and most beautiful national parks in China, it is impossible to not mention Huangshan National Park, which is also commonly referred to as Yellow Mountain. This world-renowned park was also designated as a UNESCO World Heritage Site in 1990 and later it was also later named the "sister mountain" of Jungfrau in the Swiss Alps as of 2002.
Mt. Huangshan is located in the southern region of Anhui Province and is often veiled in a thick mist. Throughout the centuries, the park's granite peaks, that are often covered in this beautiful fog, have served as a muse to poets, writers, and artists alike, captivating their imagination.
It is hard to mention all of the awesome things about this park so below are some of the more notable features that make Huangshan National Park truly remarkable:
Distinctive twisted pines: The park is renowned for its distinctively twisted pines, which are endemic to the region. These trees have adapted to the harsh mountain conditions, resulting in unique and captivating shapes. This has earned them the name "Huangshan pine" a subspecies of the Chinese pine tree.
Magnificent rocky summits: Huangshan's granite peaks rank among the most magnificent in China. The park boasts an array of awe-inspiring summits, including the 3 major peaks of Mount Huangshan, these being Lotus Peak, Bright Summit Peak, and Celestial Capital Peak.
Mystifying sea of clouds: Another iconic feature of Huangshan is its mesmerizing sea of clouds, that frequently envelop the mountain range. Visitors can ascend to the summit via cable car to witness this incredible phenomenon from above.
Soothing hot springs: Within the park, there are many hotels and spas that offer hot springs that feed from the mountains and maintain a temperature of around 42 °C (107 °F). After a day of exploration and hiking, one can unwind and rejuvenate in these therapeutic thermal waters.
These are only 4 of the amazing things to discover and explore within the magical Huangshan Mountain range. If you visit Shanghai on your trip to China, we wholly recommend checking out Mount Huangshan by train it is only around 3 hours away.
Lushan National Park
We highly recommend a visit to Lushan National Park, situated in the northern region of Jiangxi Province. Located approximately 100 kilometers (62 miles) from the capital city of Nanchang and around 20 kilometers south of Jiujiang City, this expansive park spans an area of 25 by 10 kilometers (15.5 by 6.2 miles) and is renowned as one of China's most prestigious mountains.
Lushan National Park attracts both domestic and international tourists alike, drawing them in with its unique natural landscapes and cultural heritage. The park offers a diverse array of activities, from immersive nature hikes to exploring historical sites.
Once again it is difficult to put all the cool things you can see and do into words so here are some notable highlights of the beautiful Lushan National Park:
Mount Lu: Known as Kuanglu in ancient times, Mount Lu is a celebrated mountain in Jiujiang, China. Its majestic vistas offer breathtaking panoramas of the surrounding landscape.
Donglin Monastery: Dating back to the Tang Dynasty, Donglin Monastery stands as one of China's oldest Buddhist temples built in 386 CE. It is nestled on the slopes of Mount Lu and showcases some exquisite architecture and beautiful gardens.
White Deer Cave Academy: A renowned Confucian academy established during the Song Dynasty, White Deer Cave Academy is based on the western slope of Mount Lu. Its stunning gardens, pavilions, and ancient architectural features make it an interesting attraction for history lovers.
Lushan Museum: Another place that history enthusiasts should not miss is the Lushan Museum, which offers a fascinating journey through the region's rich historical and cultural heritage.
Lushan National Park and its sounding areas are an essential destination for travellers exploring China. With its breathtaking natural beauty, profound cultural heritage, and a multitude of activities to engage in, it promises an unforgettable experience that will leave a long-lasting impression.
Yading Nature Reserve
Situated in the southwestern edge of Sichuan Province, this extraordinary reserve has earned the nickname "Last Pure Land on Earth" for its unspoiled and awe-inspiring splendour.
Covering a vast area of 560 square kilometers (216 square miles), Yading Nature Reserve is renowned for its breathtaking plateau landscapes, featuring majestic snow-capped mountains, crystalline lakes, and vibrant forests. The reserve's three sacred peaks—Chenrezig, Jampayang, and Chenadorje—hold immense religious significance for Tibetan Buddhists, drawing many pilgrims each year.
Visitors to Yading Nature Reserve can enjoy a multitude of outdoor activities, including hiking, camping, and horseback riding. One of the most coveted adventures is the 4-day trek encircling the three sacred peaks, which unveils unparalleled vistas of the surrounding terrain.
Beyond its natural allure, Yading Nature Reserve holds a diverse array of wildlife, including Tibetan macaques, snow leopards, and Himalayan black bears. To further deepen their understanding of the reserve's flora and fauna, visitors can hire a local guide to take them around the nature reserve and teach them all there is to know about the surrounding area.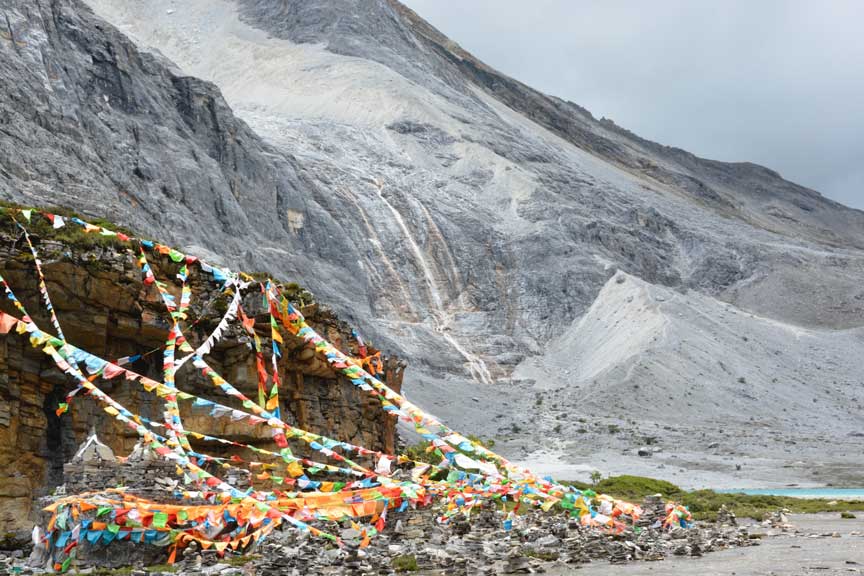 Shennongjia National Park
Shennongjia National Park, located in Hubei province, is like many of the places we've mentioned on this list, is a UNESCO World Heritage Site and a nature lover's paradise. The park Covers an area of over 3 200 square kilometers (1235.5 square miles), and boasts a diverse range of ecosystems, from subtropical forests to alpine meadows, making it possible for visitors to experience a wide variety of landscapes and wildlife in one place.
One of the main draws of Shennongjia is the golden snub-nose monkey, an endangered primate native to the park. With its distinctive snub nose and golden fur, the monkey is a fascinating sight to behold and one of the main reasons visitors come to Shennongjia. The park is also home to many stunning waterfalls, and clear streams, which are must-see attractions for anyone visiting the park.
Hikers will find a great number of trails in Shennongjia, making it a hiker's paradise. Whether you're looking for a challenging trek or a leisurely stroll, there's something for everyone here. Birdwatchers and photographers will also be delighted by the park's many species of birds.
Shennongjia National Park is a must-visit destination not only for anyone interested in nature and wildlife but also if you are interested in the supernatural world as it's said that mysterious "Wild Men" roam the park. These so called "wild men" are comparable to "Big Foot" who lives in the United States of America.
Zhangye Danxia National Geological Park
We cannot talk about the best national parks in China without mentioning the Zhangye Danxia National Geological Park. This beautiful park is located in Gansu Province, in the northern hills of the Qilian Mountains. It covers an area of about 322 square kilometers (124 square miles) and is known for its Danxia landforms and their amazing display of colour.
The park is home to a spectacular Danxia landform area that covers about 50 square kilometers (19 square miles) of the park. The Danxia landforms are a natural masterpiece, and the park is truly a photographer's paradise.
The park is divided into four scenic areas these being:
Danxia Scenic Area
Binggou Scenic Area
Sunan Danxia Scenic Area
Each area has its unique features, and visitors can spend hours exploring the park. The Binggou scenic area is known for its narrow gorges, towering cliffs, and crystal-clear streams. The Linze Danxia scenic area is the most famous and is where visitors can see the colourful mountain ridges. The third area which is known for its colourful rolling hills is known as Sunan Danxia Scenic Area.
Visitors can explore the more popular areas of the park on foot using the boardwalks that were built to make the park more accessible. The park is open all year round, but the best time to visit is from June to September when the weather is at its best. We also recommend visiting after it rains and in full sunshine to see the beautiful colours at their best and most vibrant.
Badaling National Forest Park
Last but not least we are delighted to showcase Badaling National Forest Park as our final national park that we will be talking about in this article.
Located in the mountainous region of Yanqing County, northwest of Beijing, Badaling National Forest Park is a beautiful area renowned for its lush greenery and picturesque landscapes.
One of the park's main highlights is the opportunity to explore the renowned Badaling Great Wall. This section of the Great Wall of China is not only historically significant but also offers breathtaking panoramic views of the surrounding countryside. Visitors can hike along these well-preserved sections of the wall, immersing themselves in its grandeur and appreciating the architectural marvels of ancient China.
The park's abundant wildlife also adds to its charm, with various species of birds, mammals, and plant life coexisting within its boundaries. Nature lovers will be delighted by the opportunity to observe and appreciate the rich biodiversity that thrives within the park.
It is recommended that you visit the park in the autumn months as the leaves on all the trees will turn into a beautiful sea of red hues. To get the best view of the spectacular colours we recommend visiting Red Leaf Ridge where you get the best view of over 50 000 trees.
Conclusion
In conclusion, China is home to some of the most stunning national parks in the world. From the towering peaks of Zhangjiajie National Forest Park to the turquoise lakes of Jiuzhaigou National Park, China's national parks offer a diverse range of natural wonders to explore.
We hope that our list of the 8 best national parks and Nature Reserves in China has inspired you to plan your next adventure. Whether you're a hiker, a nature lover, or simply looking for a break from the city, China's national parks have something for everyone.
Remember to always respect the natural environment and follow the rules and regulations set by each park. This will help ensure that these beautiful places remain preserved for generations to come.
If you have any questions or comments about the national parks in China, feel free to share them with us. We are always happy to hear from our readers and fellow travellers.
If you enjoyed this article and would like to read a similar article about The 8 best National parks and Nature Reserves in Mongolia please click here!